About Us
Hangzhou Public Library was founded in early period of 1958, covering an area of 43,860 square meters. It is committed to serving over 9 million residents in Hangzhou city. The Library is a vice-provincial level public library, a member library of International federation of Library Associations and Institutions (IFLA) and the first management-level member library of Online Computer Library Center Inc. (OCLC) in China mainland.
The library design is people-oriented and eco-friendly. It has successfully forged the unique and home-like reading style, which is regarded as the model of new public library buildings in China. The library kept 5,520,582 books of literature in the end of 2016, covering different disciplines. Besides, there are more than 40,000 ancient books , including ancient books of reliable edition, stone inscription rubbings and the books published in ROC period. 36 ancient books have been selected to the Directory of National Precious and Ancient Books. In 2010, the library was named the " national key protection unite for ancient books in China" by the State Council.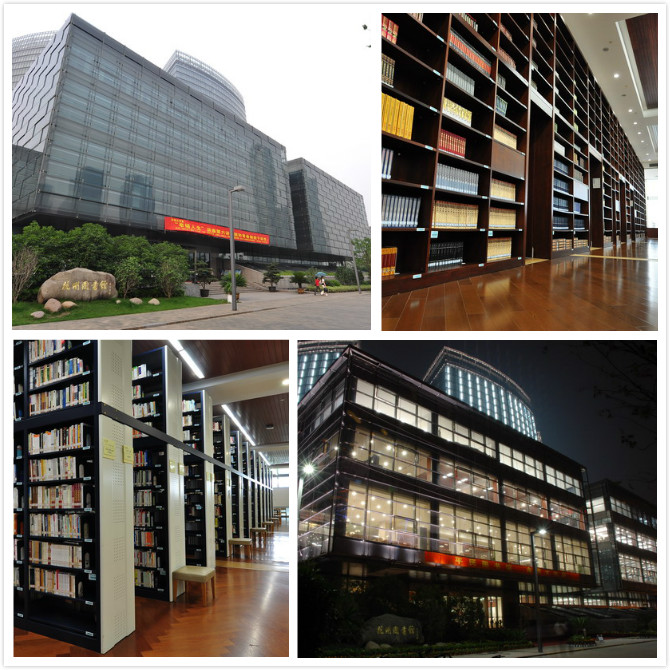 In recent years, Hangzhou Public library has put forward a lot of innovative measures. Firstly, centering on the stated goal of "a library for ordinary people and a large study for citizens", Hangzhou Public Library addresses itself to providing "equal, free and accessible", "open, multiple and sharing" library services for citizens. Out of the large-scale public libraries in China, the Library firstly took such measures of cancelling library card, cancelling deposit and so on, and acts as a pilot for the free services among the public libraries in China.

Secondly, the Library executes the "central library – main library and branch library system", which covers both urban and rural areas, benefiting all of people within the system and achieving high efficiency, convenience and fastness. Besides, different branch libraries are built gradually, such as Music Branch, Buddhist Branch, City Life Theme Branch, Sports Branch, Film Branch, Science and Technology Branch, Braille Branch, China Go Library, Environmental Protection Branch, etc. They promote reading with such innovative forms as "readers give lecture to other readers", "readers write articles being read by other readers" and "readers organize performances for other readers". All these measures provide diverse, customized and professional services to meet the dramatically changed demands of the patrons.

Thirdly, facing to the internet technology and the development of the internet of things, the library has always kept an open mind and embraces the changes. In 2016 , it launched a program on WeChat, a popular Chinese message software, enabling its readers to check out books online and get them delivered to their homes at very low prices. In April 2017, the library has cooperated with Alibaba Company to lend books by online "Credit Public Library", with a 30-day borrowing period free of charge. Every user with a 600 credit rating or higher on Zhima Credit can access the library services with no deposit or membership card.

Last but not the least, the library has accelerated the process of internationalization. In 2009, it became the first management-level member library of OCLC in China mainland. In 2011, the library launched "Image of the West Lake" project to showcase the natural and cultural landscapes by the programs like book exchange, specific collections exhibitions, librarians exchange, and various events among different countries. In 2014, it offered the interlibrary lending and delivery services to foreign libraries on the platform of WorldShare ILL. Besides Shanghai Library and National Library, Hangzhou Public library has become the third library in China to join the platform. In 2016, during G20 Summit, the library co-held international exhibition of "Ordinary Hangzhou" with dozens of libraries in the world, which generated an infectious enthusiasm for Hangzhou and Chinese culture around the world.
As an important public space, Hangzhou Public Library just continuously enriches the service contents, extends the service modes and means, tries to become the "third cultural space" where the residents have the greatest desire and wiliness to go besides the family and working unit.