In the footsteps of Marco Polo…
By
Dr Rob Burton
读书使人充实,交谈使人精明
shú shū shǐ rén chōng shí, jiāo tán shǐ rén jīng míng
By reading we enrich the mind, by conversation we polish it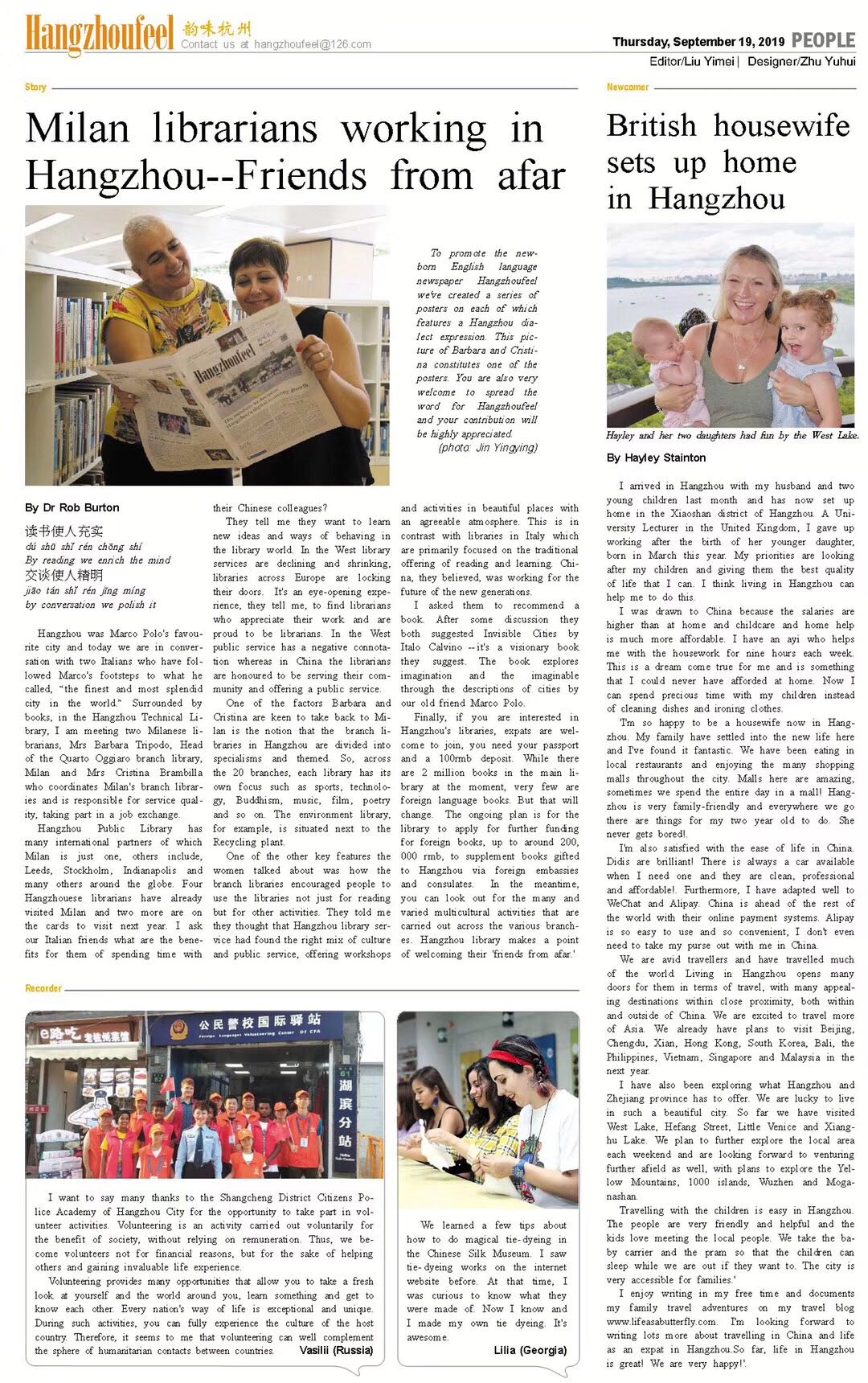 Hangzhou was Marco Polo's favourite city and today we are in conversation with two Italians who have followed Marco's footsteps to what he called, "the finest and most splendid city in the world." Surrounded by books, in the Hangzhou Technical Library, I am meeting two Milanese librarians, Mrs Barbara Tripodo, Head of the Quarto Oggiaro branch library, Milan and Mrs Cristina Brambilla who coordinates Milan's branch libraries and is responsible for service quality, taking part in a job exchange.
Hangzhou Public Library has many international partners of which Milan is just one, others include, Leeds, Stockholm, Indianapolis and many others around the globe. Four Hangzhouese librarians have already visited Milan and two more are on the cards to visit next year. I ask our Italian friends what are the benefits for them of spending time with their Chinese colleagues?
They tell me they want to learn new ideas and ways of behaving in the library world. In the West library services are declining and shrinking, libraries across Europe are locking their doors. It's an eye-opening experience, they tell me, to find librarians who appreciate their work and are proud to be librarians. In the West public service has a negative connotation whereas in China the librarians are honoured to be serving their community and offering a public service.
One of the factors Barbara and Cristina are keen to take back to Milan is the notion that the branch libraries in Hangzhou are divided into specialisms and themed. So, across the 20 branches, each library has its own focus such as sports, technology, Buddhism, music, film, poetry and so on. The environment library, for example, is situated next to the Recycling plant.
*Pro Librarian Tip 1 – Visit the Tea Culture Branch Library (Building 13, North to Cimu Bridge, Bailong Road)
One of the other key features the women talked about was how the branch libraries encouraged people to use the libraries not just for reading but for other activities. They told me they thought that Hangzhou library service had found the right mix of culture and public service, offering workshops and activities in beautiful places with an agreeable atmosphere. This is in contrast with libraries in Italy which are primarily focused on the traditional offering of reading and learning. China, they believed, was working for the future of the new generations.
Our conversation drifted away from the 5 million books Hangzhou Public Library holds across its service into how they were enjoying China and Hangzhou. Barbara had visited before but this was Cristina's first time. I had to ask, didn't I? Had they found the best pizza in Hangzhou? This is a question raised time and time again on the Hangzhou social media pages. Unfortunately, dear readers, you will not get the definitive answer you require here. They had, on their first jetlagged night, found a Domino's – they described it as "bread with cheese and tomato sauce on" – which is probably an accurate description, it did the job, they told me, but it was not the best pizza in Hangzhou. They also offered more pro tips after watching people eating pizza and being confused as to why they were offered plastic gloves.
*Pro Italian Librarian Tip 2 – Eating pizza with anything other than your hands, and especially chopsticks, is expressly forbidden by Italian law!
The conversation returned to books, I asked them to recommend a book. After some discussion they both suggested Invisible Cities by Italo Calvino – it's a visionary book they suggest. The book explores imagination and the imaginable through the descriptions of cities by our old friend Marco Polo. Find the PDF here –
https://designopendata.files.wordpress.com/2014/06/calvino_italo_invisible_cities.pdf


*Pro Librarian Tip 3. For English teachers faced with recalcitrant students who don't want to read – Graphic Novels are the way forward and are worth reading as a starting point.
Finally, if you are interested in Hangzhou's libraries, expats are welcome to join, you need your passport and a 100rmb deposit. While there are 2 million books in the main library at the moment, very few are foreign language books. But that will change. The ongoing plan is for the library to apply for further funding for foreign books, up to around 200,000 rmb annually, to supplement books gifted to Hangzhou via foreign embassies and consulates. In the meantime, you can look out for the many and varied multicultural activities that are carried out across the various branches. Hangzhou library makes a point of welcoming their 'friends from afar.'