A Journey to Experience the Charm of the Song Dynasty Through Paintings in Progress
The culture of the Song Dynasty has become an important cultural gene with Chinese style and regional feature of Zhejiang Province. Hangzhou People's Association for Friendship with Foreign Countries and Hangzhou Public Library have jointly planned the series event of "A Journey to Experience the Charm of the Song Dynasty Through Paintings", from April to December throughout 2022.
The event is committed to deeply exploring the cultural characteristics of the Song Dynasty in Hangzhou through live webcast, on-site experience and short video. Combining the perspective of foreign friends in Hangzhou with the professional demonstration, the event focuses on traditional cultural elements such as silk, tea, food and instrumental music, displays the lifestyle and life aesthetics of people at that time, and explores the footprints of opening-up and exchange of the Song Dynasty.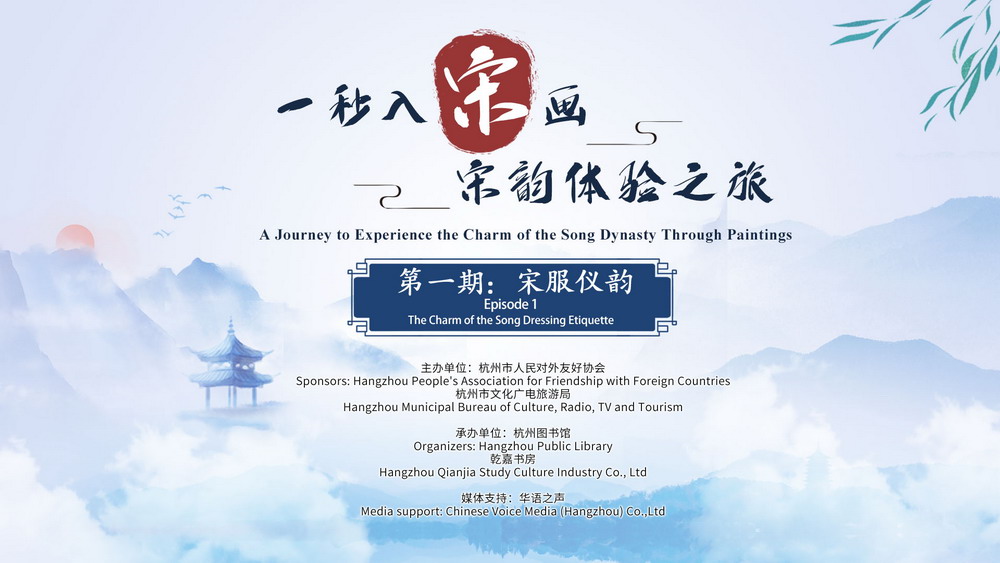 •Dressing in the Song Dynasty generally refers to the clothes popular in the Song Dynasty, including the Northern Song Dynasty and the Southern Song Dynasty. As a pearl in the development of clothing history, dressing in the Song Dynasty was self-cut and comfortable. The elements of straight collar and a kind of Chinese-style jacket with buttons down the front were popular among the royal relatives and ordinary people.
•In China, Qin culture has a long history, which could be traced back to more than 3000 years ago. The Song Dynasty is one of the important periods of Qin culture, which has developed greatly in all aspects. Qin was common in people's lives and used by scholars in the Song Dynasty to mold their temperaments.
•During the Song Dynasty, a folk festival was centered on enjoying the full moon and officially designated as the Mid-autumn Festival. People often held a ceremony to worship the moon while appreciating the moon. The so-called worship of the moon was to burn incense in the courtyard to worship the goddess of the moon and express their wishes for blessings.
•Dressing, music of Qin, moon appreciation and other aspects of the Song Dynasty (960-1279) all reflect the exquisite and elegant life aesthetics of people at that time. The culture in the Song Dynasty has unparalleled charm and makes people yearn for it.